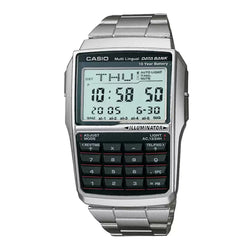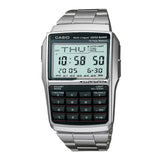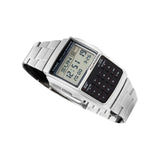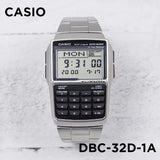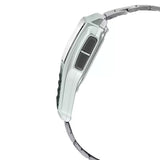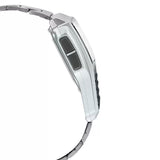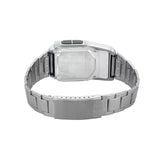 WW0455 Casio Vintage Data Bank Calculator Chain Watch DBC-32D-1ADF
WW0455 Casio Vintage Data Bank Calculator Chain Watch DBC-32D-1ADF
Warranty: 12 Months
Call/SMS: 01789557722 01789557733


Specifications:
• Brand: Casio
• Code: WW0455
• Gender: Men
• Resin Glass / Spherical Glass
• Case / bezel material: Resin
• Stainless Steel Band
• Triple-fold Clasp
• Dual time
• Other Daylight saving time
• LED backlight: Amber
• Auto light switch, afterglow
• Telememo
• Memory capacity: Up to 25 sets of data, with 8-character name and 15-digit telephone number
• Others: Remaining memory screen, auto-sort, support of characters of 13 languages (English, Portuguese, Spanish, French, Dutch, Danish, German, Italian, Swedish, Polish, Romanian, Turkish, Russian)
• 8-digit calculator
• Calculation modes: Arithmetic operations and currency conversion
• Regular timekeeping
• 1/100-second stopwatch
• Measuring capacity: 23:59'59.99"
• Measuring modes: Elapsed time, split time, 1st-2nd place times
• Multi-function alarms
• 5 independent multi-function alarms (4 one-time alarms and 1 snooze / one-time alarm)
• Alarm type: Daily alarm, date alarm, 1-month alarm, monthly alarm
• Hourly time signal
• Full auto-calendar (to year 2099)
• 12/24-hour format
• Button operation tone on/off
• Regular timekeeping: Hour, minute, second, am/pm, year, month, date, day
• Accuracy: ±30 seconds per month
• Approx. battery life: 10 years on CR2025
• Module 2888
• Size of case: 50.4 × 37.4 × 12 mm
• Weight: 62.5g approx.
• Water Resistant
• Made in China


Visit stylebud.com for more models.


#stylebud #casio #vintage #databank #calculator #chain #watch #ww0455


Multi-Lingual DATA BANK Combine a digital timepiece with a 10-key pad calculator and you get all the convenience of an 8-digit calculator in a wristwatch. A big, high-contrast LCD makes figures easy to read. Other features include databank capabilities, day of the week display in 13 languages, and 10-year battery life for uninterrupted operation.